The nose of our longtail boat lunged up and over the waves, spraying warm seawater on my face as we cruised from Ko Lipe to Ko Adang. This mid-size island in the Lower Thai Andaman exemplifies, along with some of its neighbors, how mainstream tourism has not overrun all of Thailand's most stunning islands.
Both protected as part of Mu Ko Tarutao Marine National Park, Ko Adang and its twin sibling, Ko Rawi, are the two largest islands in the Butang archipelago. The park — but not the archipelago — also covers Ko Tarutao, a larger island set 50 km to the east, along with Ko Tanga and a sizable mainland section.
Ko Rawi (left), the islet of Ko Yang and a sliver of Ko Adang as seen from Ko Lipe's western forest.

No roads pierce the forested slopes or white-sand coasts rimmed by reefs and turquoise sea on either Ko Adang or Ko Rawi. Apart from one privately run resort on Ko Adang, neither island has lodgings, restaurants or other facilities apart from those operated by the park. The only other human inhabitation is a small Urak Lawoi village on the east coast of Ko Adang (more on them in a couple of weeks).
The two islands stand less than two km away from one another, inseparable twins whose peaks are visible from 100 km away on a clear day. Literally, Ko Adang and Ko Rawi are big parts of what makes the scenery here so special.
When arriving at Ko Lipe's Pattaya Beach, it's easy to think that all of the land in this frame is part of a single island. In fact, the background mountains are part of Ko Adang, and out of view is the two km of sea that separates these two gorgeous yet entirely different islands.

Meeting Ko Adang
Our wooden longtail boat settled into the sand of Hat Laem Son in the southeast corner of Ko Adang as we splashed into the ankle-deep water. Like dozens of other beaches in Thailand with the same name, this one is named after the graceful pine-like trees that shade the beachfront campground. Their prickly seed pods make barefoot walking a little painful on sand strung with purple creeper flowers.
The scene after arriving at Hat Laem Son, with Ko Lipe in the background.

After a quick stop at the visitor center we strolled to an open-sided pavilion where basic Thai dishes are served. We thought the cook was screaming hysterically at us until she pointed at a black-and-red lizard, about the size of tennis racket handle, that was hiding under a counter. She yelled, "this one is poisonous!" Once a ranger had safely removed it, we spooned into some green curry for hiking fuel.
Not another soul on northern Hat Laem Son in the middle of high season 2017.

As with many beaches in the archipelago, the coral sand that extends north from Laem Son is flecked with black grains of tourmaline. Tidal garbage piles up here and visitors who want to give back can pick some of it up on a solo mission or join Trash Hero, a global non-profit that was founded on Ko Lipe in 2011. They meet every Monday at 10:00 A.M. at the south end of Walking Street on Ko Lipe.
Tiny bugs? Nope, it's a close up of jet-black grains sand on Ko Adang. Unlike the black sand beaches of Hawaii, for example, the grains seen here are composed of tourmaline rather than volcanic rock.

Earning the view
Behind Laem Son, a sign points to the trail leading up to the viewpoints of Chadoe Cliff, easily the most popular attraction on either Ko Adang or Ko Rawi. Even so, I've never encountered more than a few other hikers on my four ascents over the years. The trail is steep in places and I always wish I'd brought proper sneakers along. Surfaces can be slippery, but ropes are there to help in places.
Peering down on Hat Laem Son and some of the coral from Chadoe Cliff.

Three rocky viewpoints emerge from bamboo trees and other foliage on the mountainside, each affording a more impressive vista than the last. Boomerang-shaped Ko Lipe is in view to the south, with Ko Tanga and Ko Tarutao looming in the west. Yet the most impressive part of the views might be the reefs splotched around Ko Adang itself. Squint to spot snorkelers and kayakers.
Notably clear skies during my 2014 visit made it possible to capture Ko Tanga (left), Ko Tarutao (left to center) and Malaysia's Langkawi Island (right) in this single frame.

In the salty breeze, a Belgian expat who we happened upon at the second viewpoint told us how he'd recently lost a teaching job in Phitsanulok and was at a crossroads in his life, unsure if he should stay in Thailand or move home. At that moment, as he crouched down to light up a joint, he seemed to want to stay on this cliff forever.
A south-facing vista from Chadoe Cliff's uppermost viewpoint includes Ko Lipe's Sunrise Beach and the offshore specks of Ko Usen (top center) and Ko Kra.

Near the top viewpoint we paused to gaze inland over mountains that reach up to 695 meters amid an interior that humans rarely touch. Sized at 30 and 29 square km, respectively, Ko Adang and Ko Rawi are not small islands — and virgin jungle blankets nearly all of their slopes and valleys.
Somewhere in there is Kinnaree Waterfall, which can be reached with the help of a ranger or guide.

Into the forest
To experience a little more of that jungle, we descended the cliff and strode back west, passing Laem Son and shorter stretches of sand hidden beyond boulders. These are terrific spots to find solitude while lounging or snorkeling. Several reefs are found off different parts of Ko Adang and you could easily spend a whole day, or longer, checking out the fish, coral and anemones.
Getting the feet wet before entering the jungle. While snorkeling around parts of Ko Lipe can be dangerous, it's much safer over on Ko Adang. That's Ko Tarang (or Talak) on the right.

Not far from Laem Son, a black water pipe marks the start of a trail that cuts two km into the forest. Monkeys rustled in the treetops as we explored the rolling terrain, sticking fairly close to the shoreline for the first stretch. Leaves the size of umbrellas join old-growth dipterocarp trunks, vines and wildflowers beside the trail.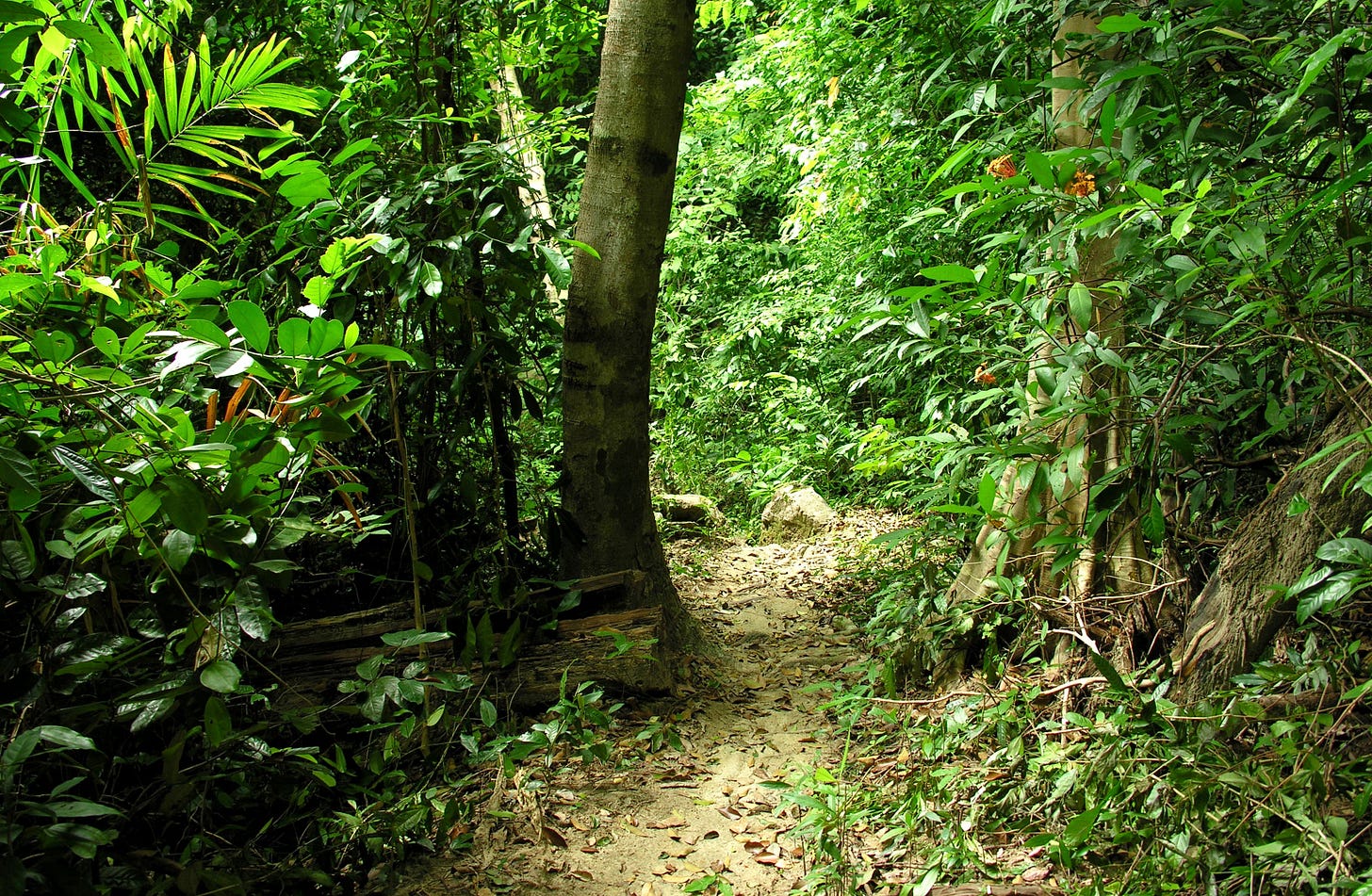 Along the trail during my first visit to Ko Adang back in 2011.

A side path leads to the privately owned Adang Island Resort, built almost 10 years ago on land that had previously been used for low-scale coconut farming. One resort is perhaps too many in a national park, but it could be much worse.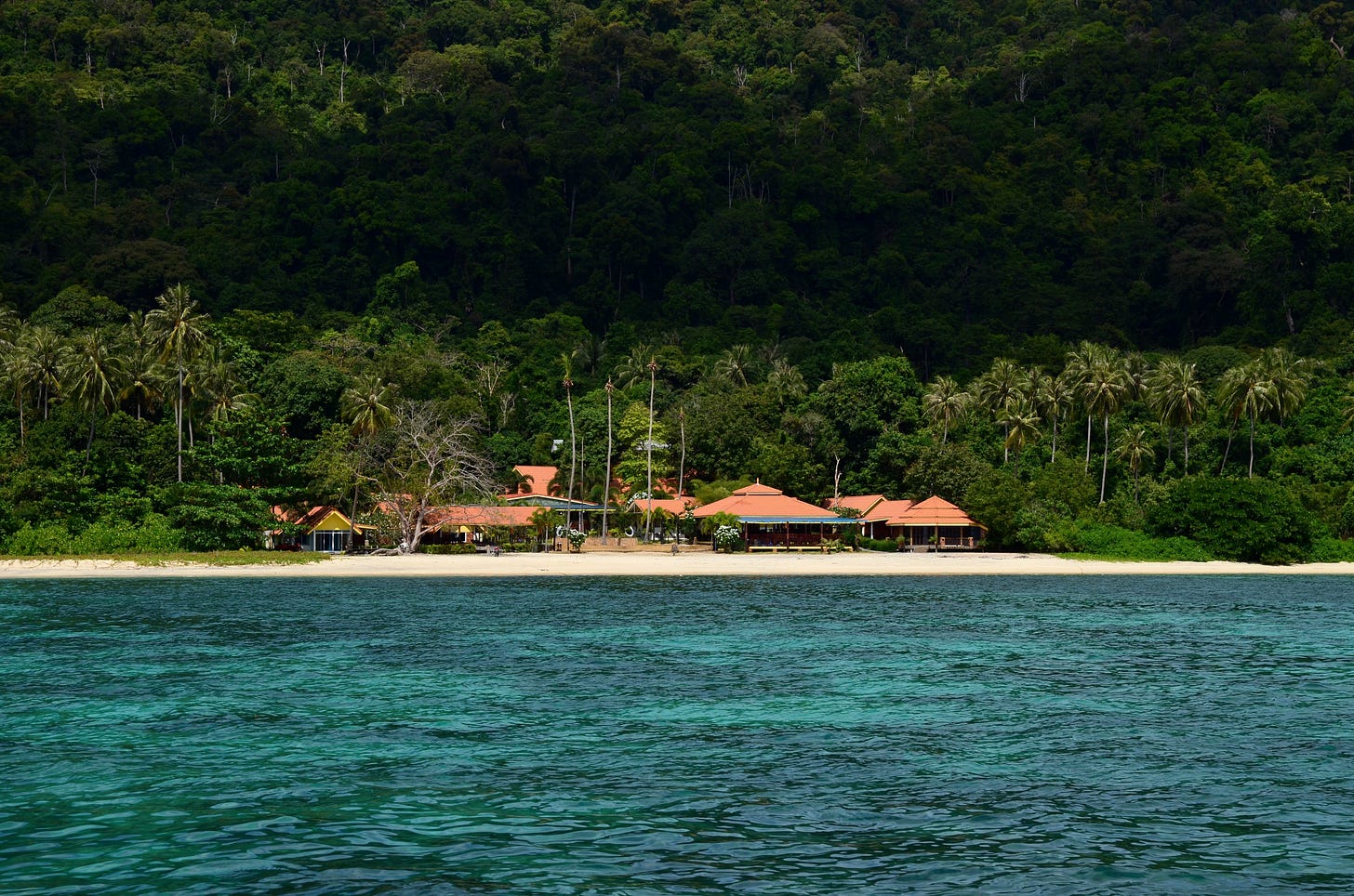 The only privately owned resort on Ko Adang was built on controversially allocated land.

From there the trail cuts inland and narrows before disappearing into a stream. A spot where the mountain-sourced water flows over boulders and fallen trees is known as Jon Salad or "Pirate's Falls," a dramatic name for what's honestly more of a bubbling brook than a proper waterfall. Still, it's a refreshing place to soak your feet and watch the birdlife. Keep an eye out for fish, frogs, lizards and snakes as well.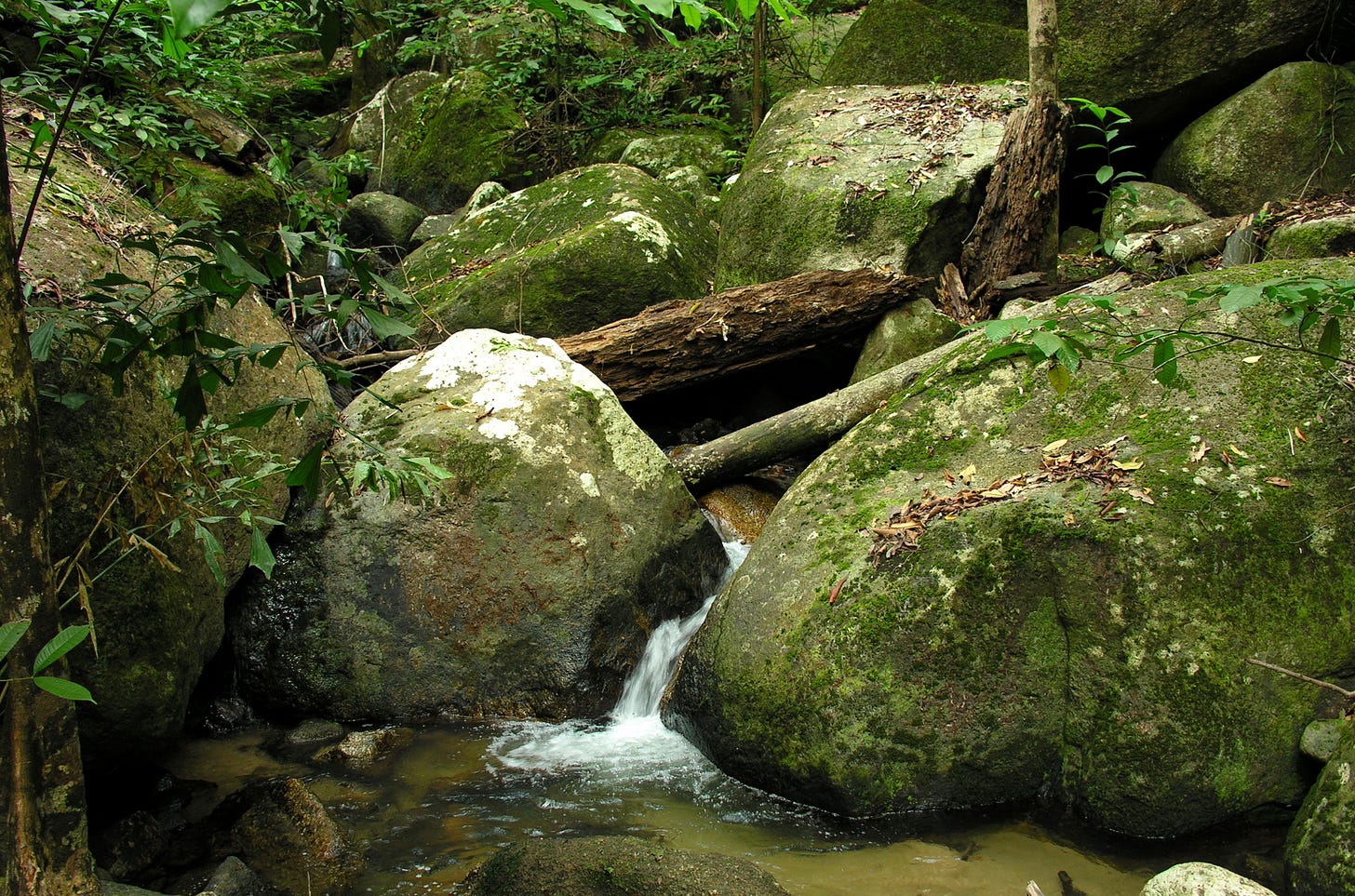 The actual waterfall is larger than this, but not by much. My photos of Pirate's Falls came out blurry; see the useful guide to Ko Adang on Getting Stamped to find a photo of them.

There aren't many trails on Ko Adang and while I've never found them too difficult to follow, some hikers have lost their way. Locals told me that a Thai woman once spent several days alone in the jungle after "hearing whispers" that led her astray. Rangers found her hungry and battered, but alive, a couple of days later.

Reaching Ko Adang and staying overnight
Accessible from Pakbara on the mainland or other islands like Ko Mook and Langkawi in Malaysia during dry season, Ko Lipe is the jumping off point for Ko Adang and all other islands in the Butang archipelago.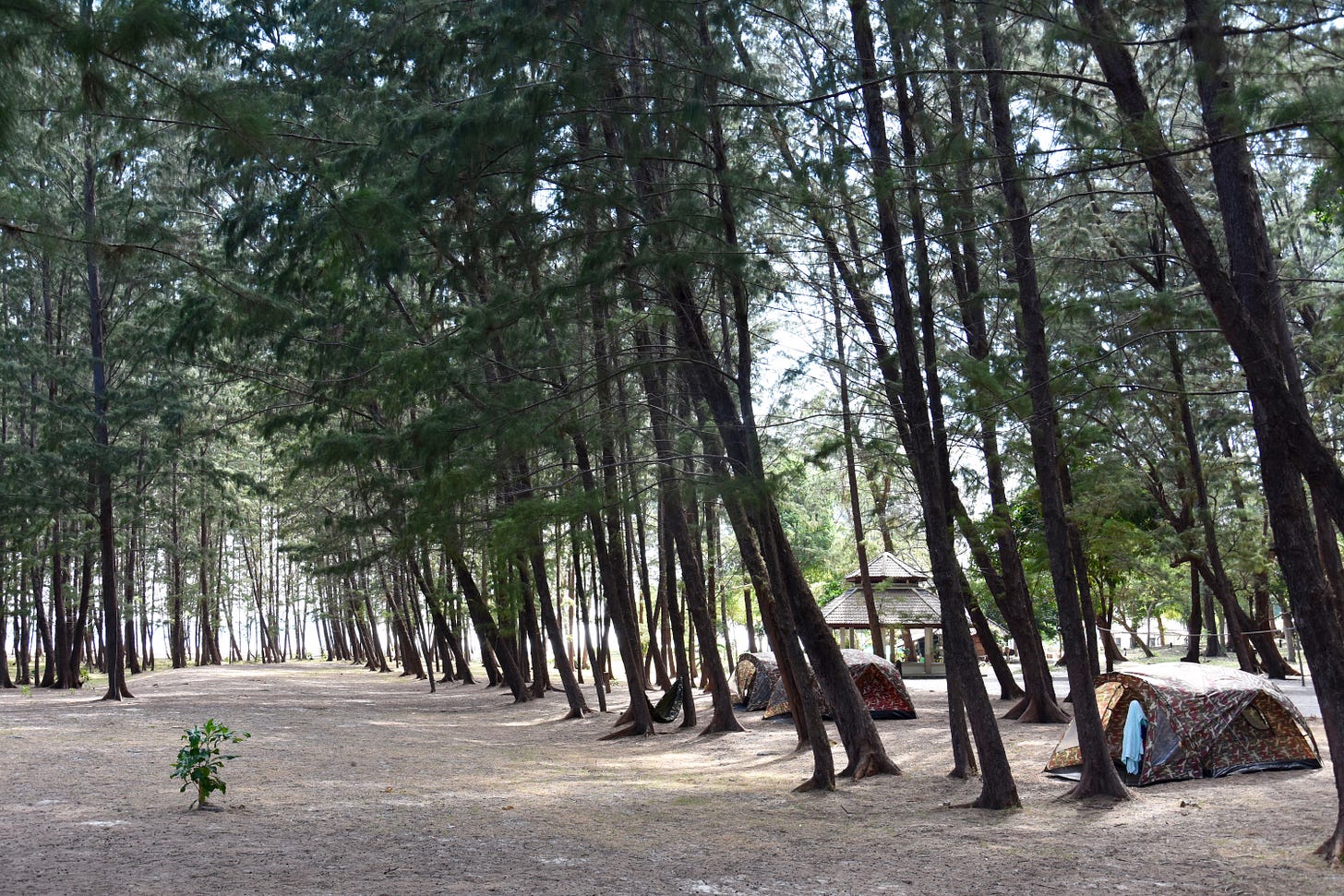 Camping on Ko Adang.

A longtail boat driver on Ko Lipe's Sunrise Beach will take you to Ko Adang and back for only 200 baht per person. Foreign adults also have to pay 200 baht each for a ticket to the national park, which should be valid for five days — don't lose it if you'll be hitting Ko Tarutao as well. Ko Adang is also included on some group tours, starting as low as 600 baht, that can be booked on Ko Lipe.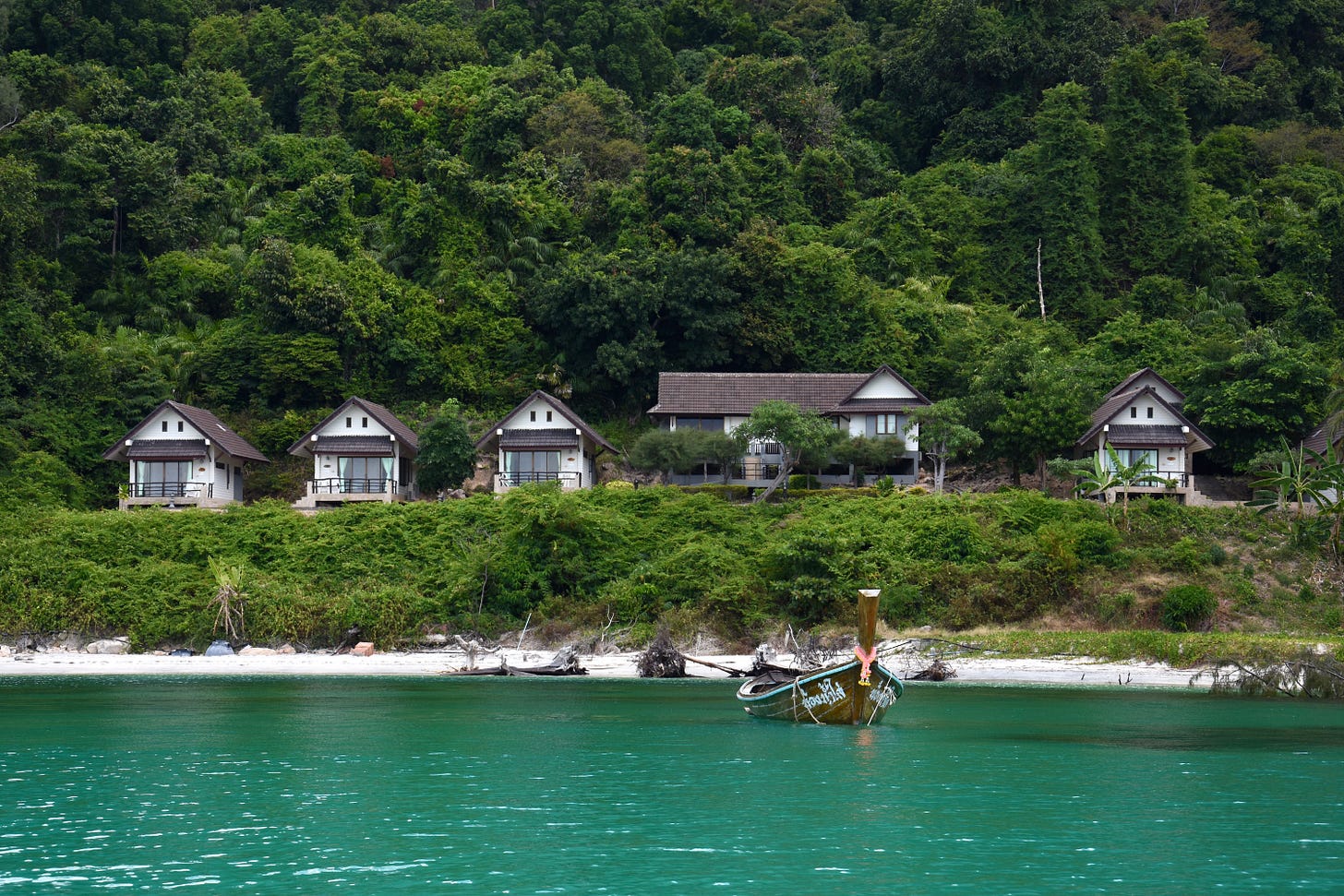 Park-provided bungalows on Ko Adang, which can be booked in advance through the national park link below. They have fans, but power gets shut off at night so they do get hot with the windows closed.

If wanting to overnight on Ko Adang, you could rent a tent from the park for 400 baht, or pitch your own for 30 baht, and use the cold-water facilities. A string of fan-cooled bungalows with sea-view balconies for two go for around 600 baht. Kayaks and snorkeling gear can be rented from park staff at Laem Son as well. All facilities in the park close from May 1st to October 1st each year. 🌴
Here's a map pinpointing the islands and sites mentioned in this post. For more info on visiting, check out the Travelfish guides to Ko Lipe and Ko Adang.
Mu Ko Tarutao Marine National Park: Offices located near the pier in Pakbara, at Ao Phante on Ko Tarutao, at Laem Son on Ko Adang, and at Pattaya Beach on Ko Lipe ; 074 783 597 ; http://nps.dnp.go.th//parksdetail.php?id=37&name=TarutaoNationalPark