The many shapes and sizes of Thailand's islands
Island Nerd #1
Picture yourself hand gliding high above coastal Thailand. What would you see? Or, as you sail on the country's azure-blue and aquamarine waters, what would stand out about the islands that you'd come across?
Every island has an identity of its own. Yet many share similarities as well, from the natural landscapes to the ways that humans have altered them. Read on for a post that's packed with trivia-worthy facts about the shapes and sizes of some of Thailand's roughly 824 seawater islands. Indeed, this section of the newsletter is not called Island Nerd for nothing.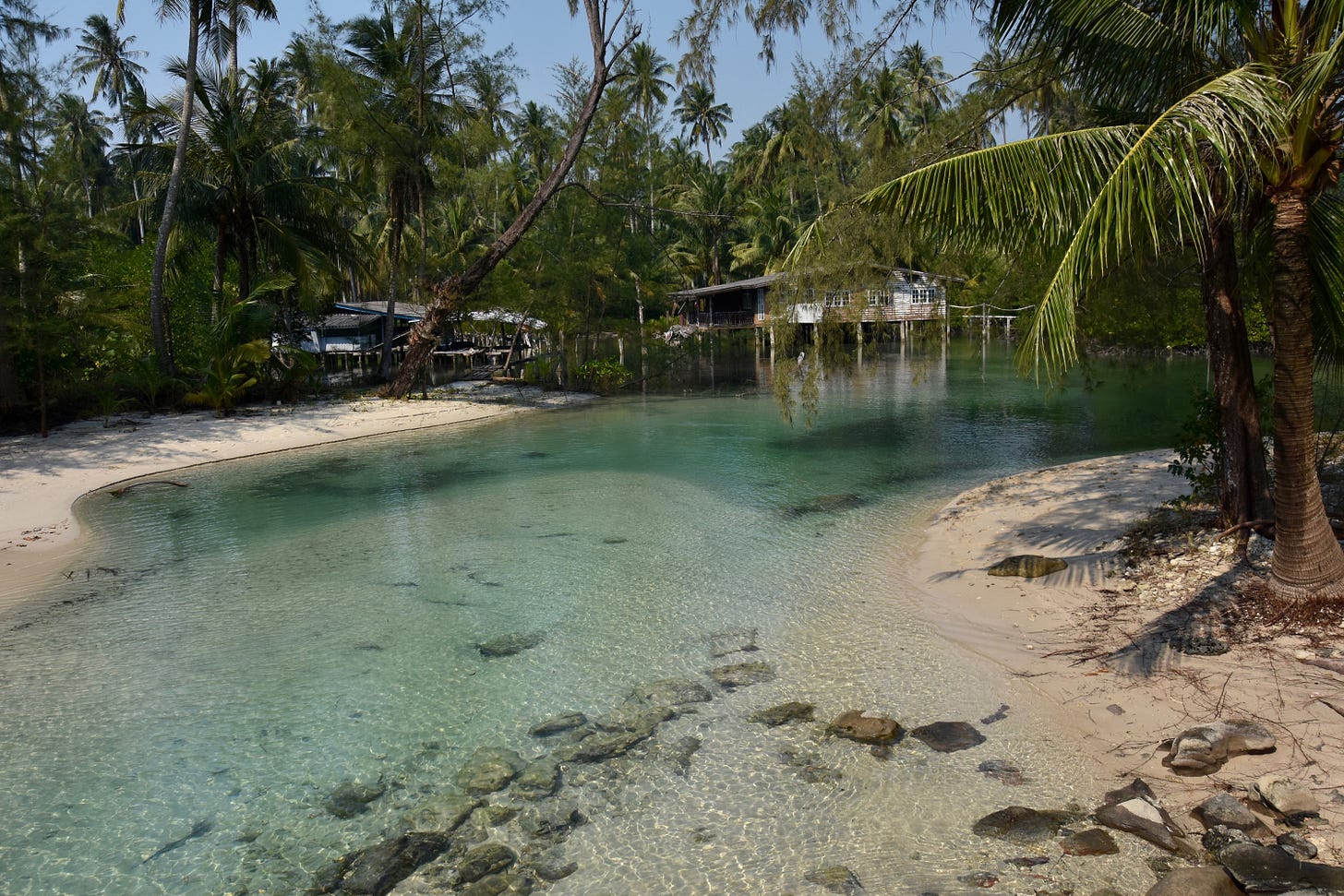 River meets sea at Khlong Hin on Ko Kood.

(If you haven't yet, please subscribe to Thai Island Times. For more info about this newsletter, hit the About page.)
From large islands to specks
When it comes to size, every Thai island fits into one of these five categories: large island, mid-size island, small island, islet, and speck. Keep in mind that my usage of these terms falls strictly within the context of Thailand. Ko Samui is not a large island when compared to Bali or Oahu, but among the Thai islands, it's one of the big ones. With that in mind, here are all eight of the large islands:
Phuket at 543 square km.

Ko Samui at 229 square km.

Ko Chang (Trat) at 213 square km.

Ko Tarutao at 152 square km.

Ko Phangan at 125 square km.

Ko Kood at 105 square km.

Ko Yao Yai at 92 square km.

Ko Lanta Yai at 81 square km.
The above numbers may not be precise, and there is an ongoing debate about whether Ko Samui or Ko Chang is actually the second largest island. What's clear is that these eight islands are all considerably larger than the rest. On any of them, a motorized vehicle is the only way to see a good portion of the terrain in a single day.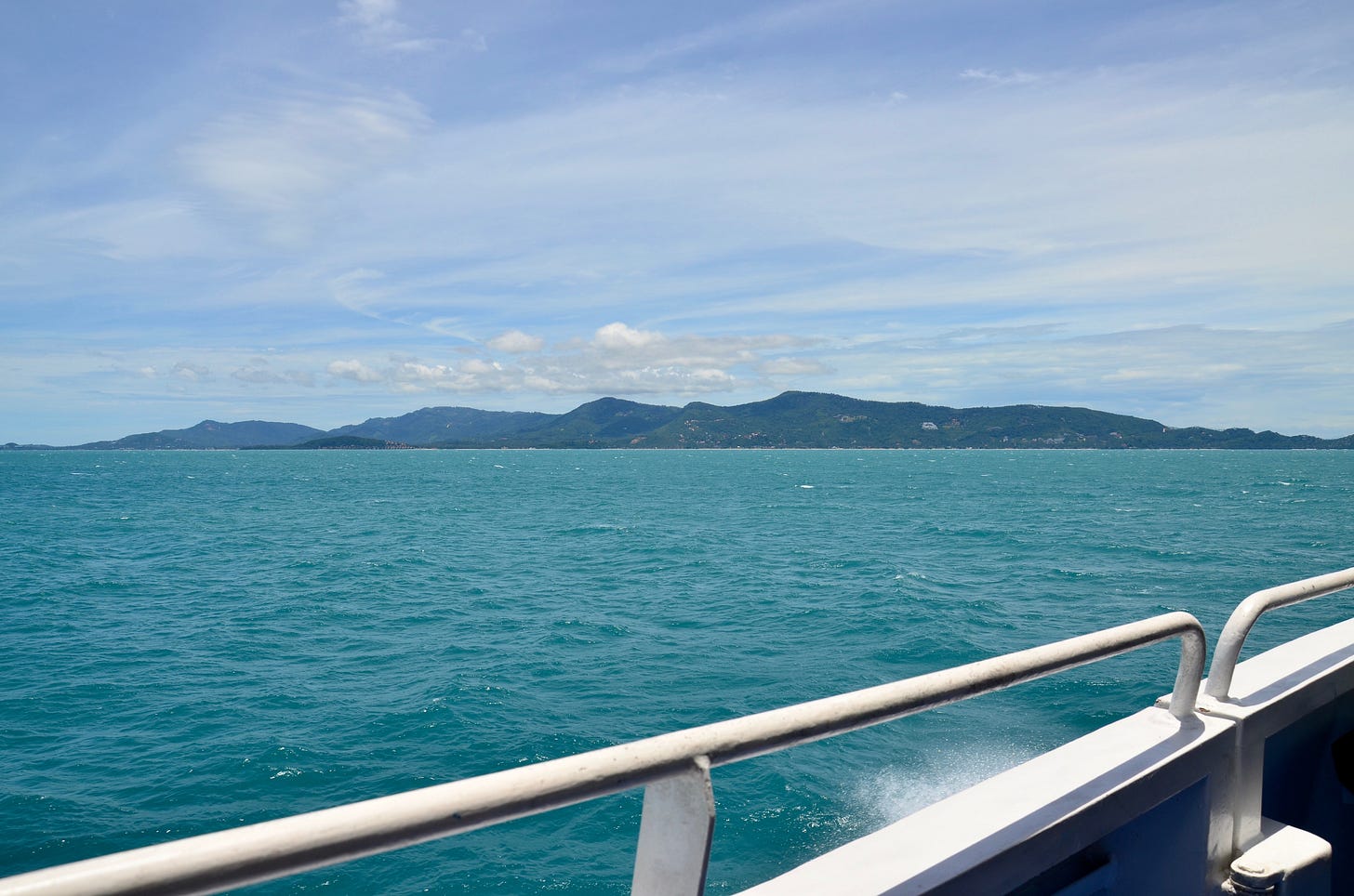 A view of Ko Samui from the ferry.

Then come the mid-size islands, including Ko Phayam, Ko Phra Thong, Ko Raya Yai, Ko Yao Noi, Ko Phi Phi Don, Ko Libong, Ko Adang, Ko Taen, Ko Tao, Ko Si Chang, Ko Khram Yai, Ko Samet (Rayong) and Ko Mak, to name only a small number of them. A youthful body might make it to most corners of these islands in a full day on foot — if there are lanes and trails to stroll on. Exploring by sea, a strong kayaker might find it possible to circumnavigate a mid-size island in a very long day of paddling.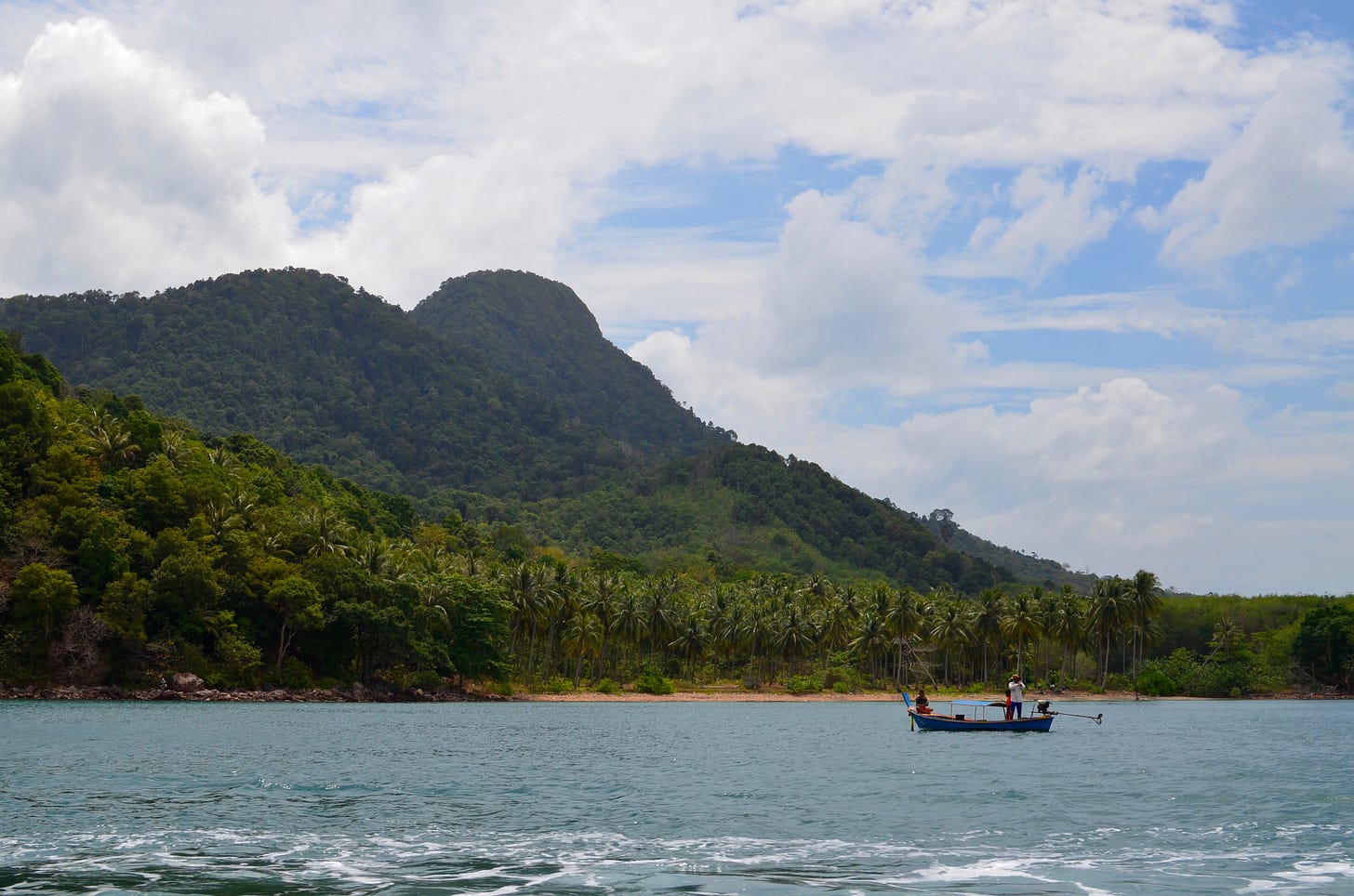 Ko Jum, which is known as Ko Pu in the northern half pictured above, is a fine example of a mid-size island.

Thailand's hundreds of small islands include Ko Similan, Ko Maithon, Ko Hong, Ko Kradan, the Ko Rok twins, the Ko Lao Liang twins, Ko Bulon Leh, Ko Lipe, Ko Khai (Satun), Ko Matsum, Ko Phitak, the Ko Man trio, Ko Thalu (Prachuap) and Ko Wai. If islands of this size have roads at all, they're mostly single-lane tracks. If inhabited by humans, there's usually no more than one village and/or a sprinkling of small resorts. It might take only an hour or two to paddle around a small island by kayak.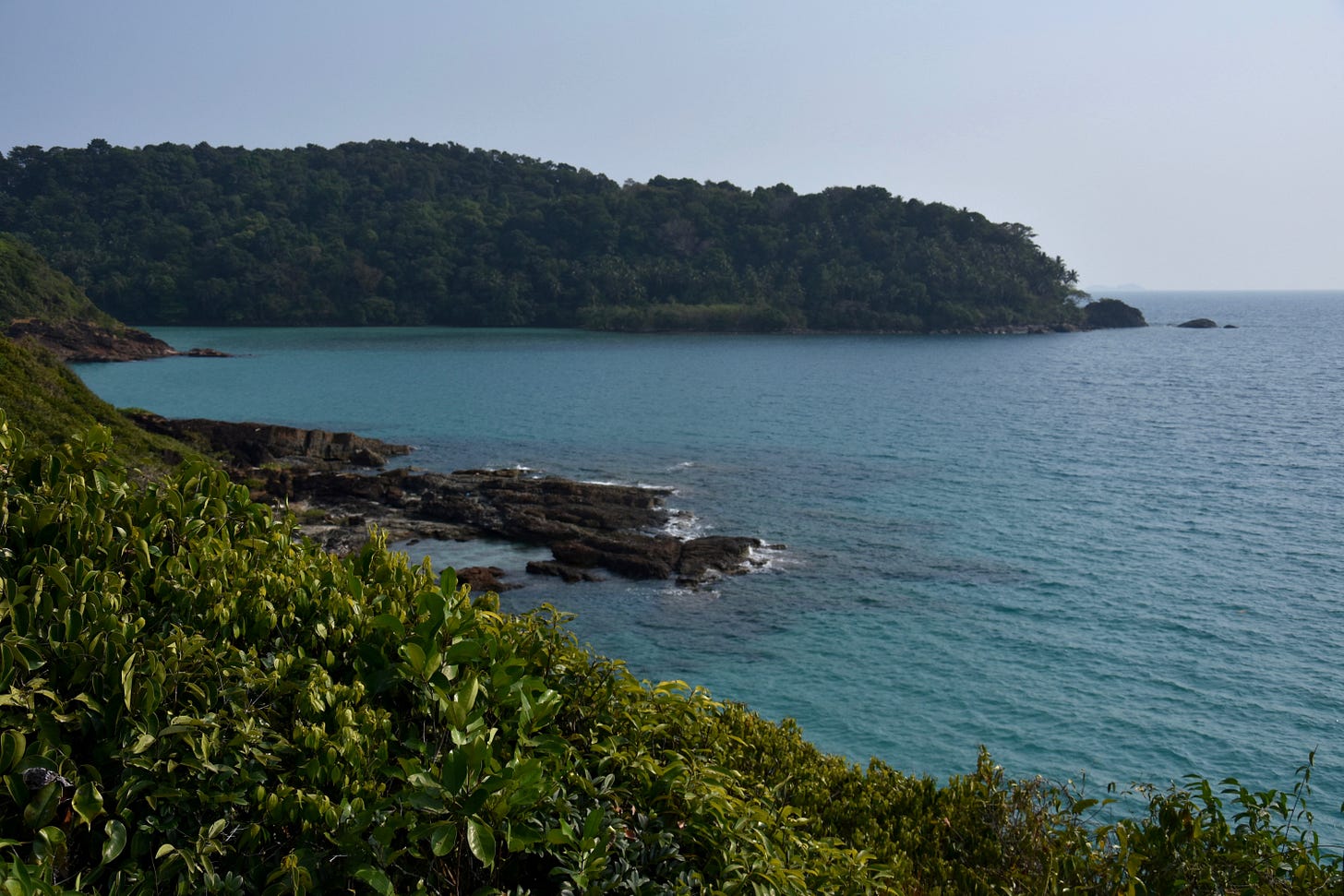 Still plenty of room to roam on small islands like Ko Wai.

Next come the islets, smaller drops of terrain that can be kayaked around in perhaps 20 minutes. Most are uninhabited, with no roads and probably not so much as a foot trail to walk on. The few islets that have accommodation are unlikely to host more than one lonesome resort. Examples of islets include Ko Nang Yuan near Ko Tao, Ko Tub near Ko Gai, and the Ko Phrao twins off southeast Ko Chang (Trat). One that you probably haven't heard of is the Thai Andaman's southernmost islet, Ko Khamin, set way down there within close reach of Malaysian waters.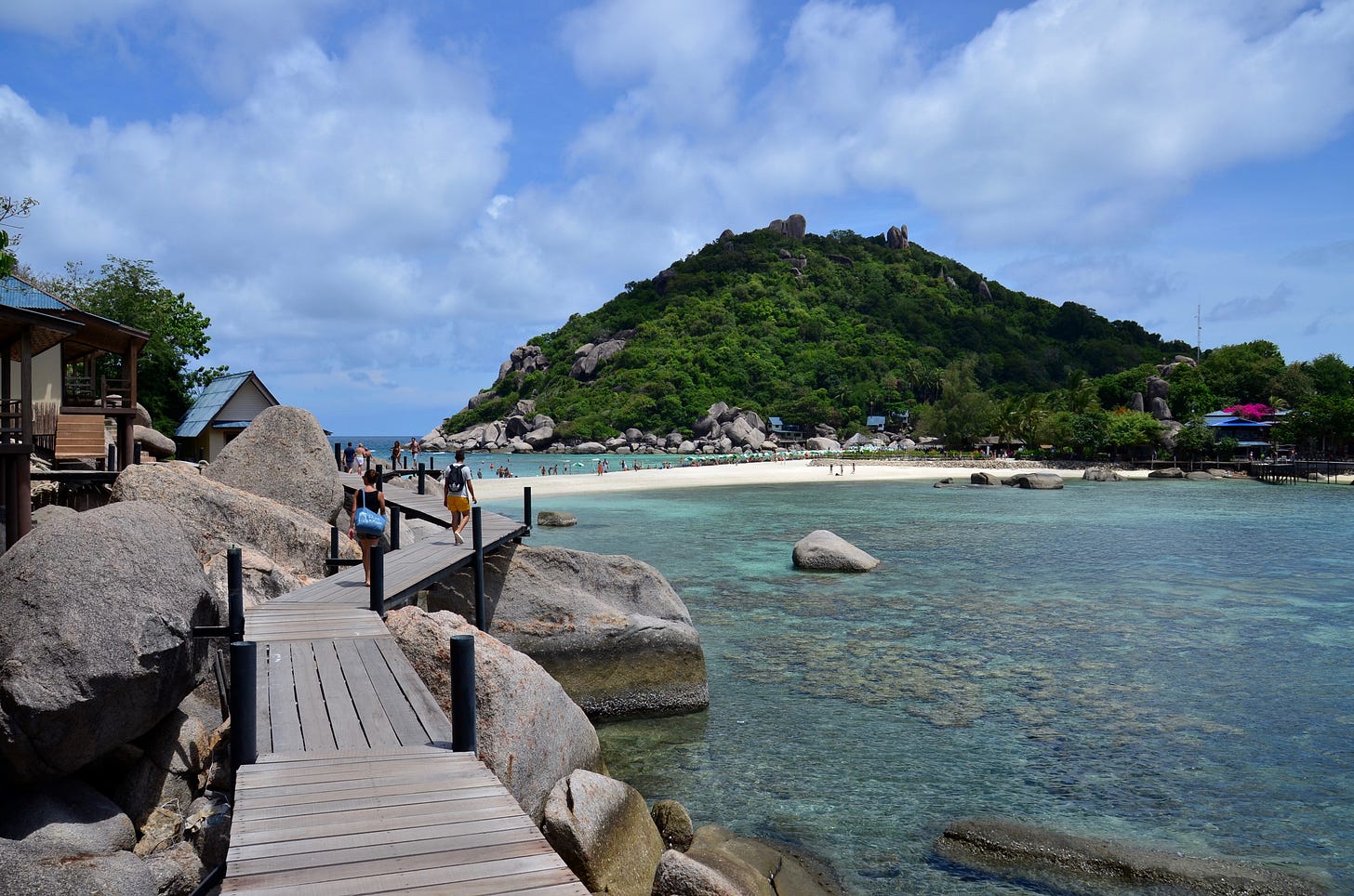 Ko Nang Yuan is more like a pair of islets linked by a beach.

Smallest of all are the "specks," a word that I apply to the blips of rock, foliage and perhaps a bit of sand that can be kayaked around in five minutes or less. Some are little more than a boulder protruding above the sea. Others consist of a single limestone massif. One solitary speck is Ko Losin, consisting of a rock topped by a warning light some 80 km off mainland Pattani. It's barely big enough for a few people to stand on.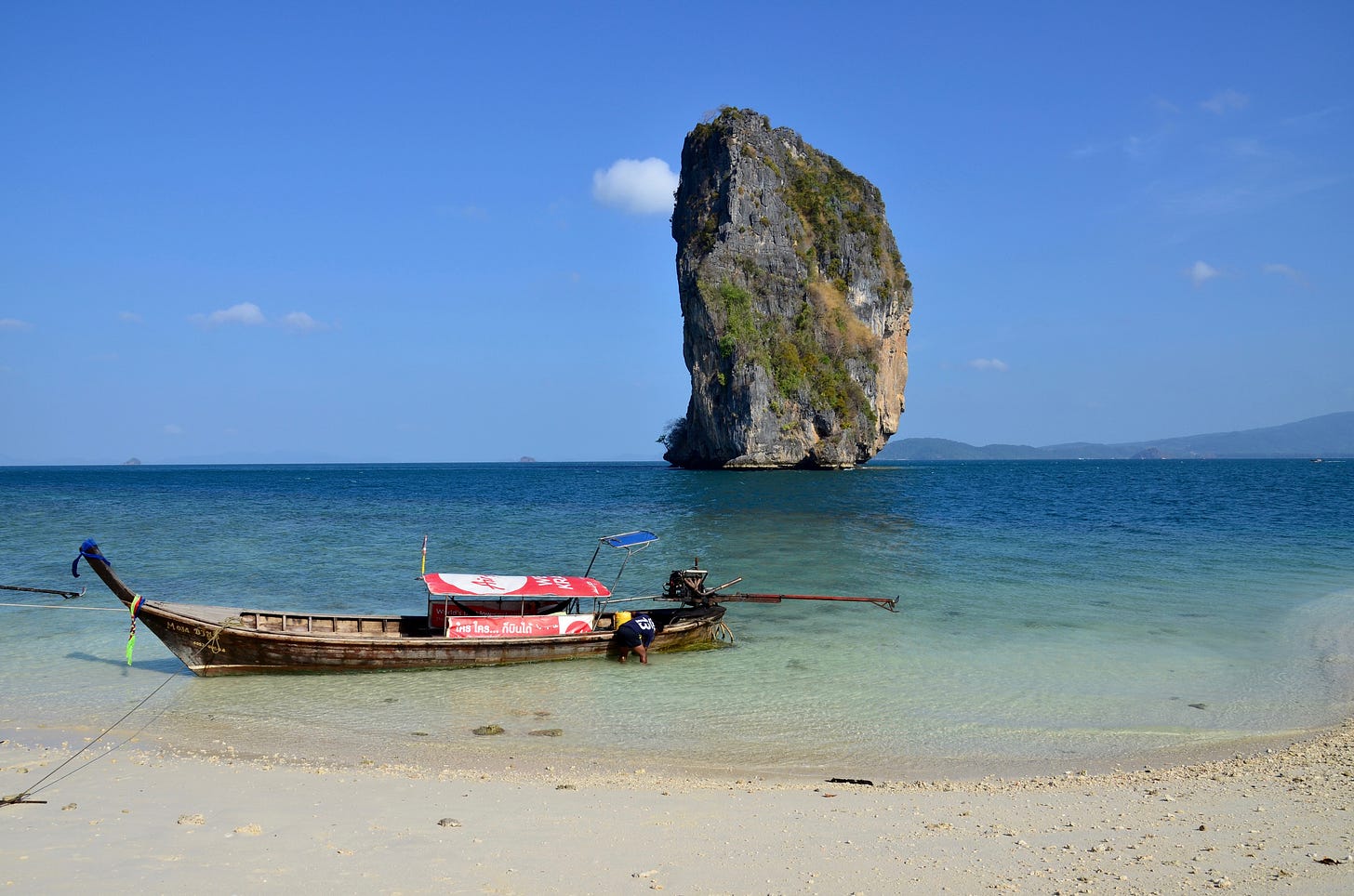 The speck of Ko Ma Tang Ming makes a dramatic appearance off Ko Poda's shore.


Mangroves to mountains
To add another layer, let's take a look at Thai island topographies.
Does the island have only a rocky coast, or is there a beach? Perhaps it has many beaches? If so, what is the sand like? Slightly pinkish like on Ko Mak? Powdery white with jet-black flecks like in the Adang archipelago? Perhaps amber-hued like on one of Ko Jum's beaches? Made up of polished stones like on Ko Hin Ngam? Or consisting of the more common khaki or golden grains of sand?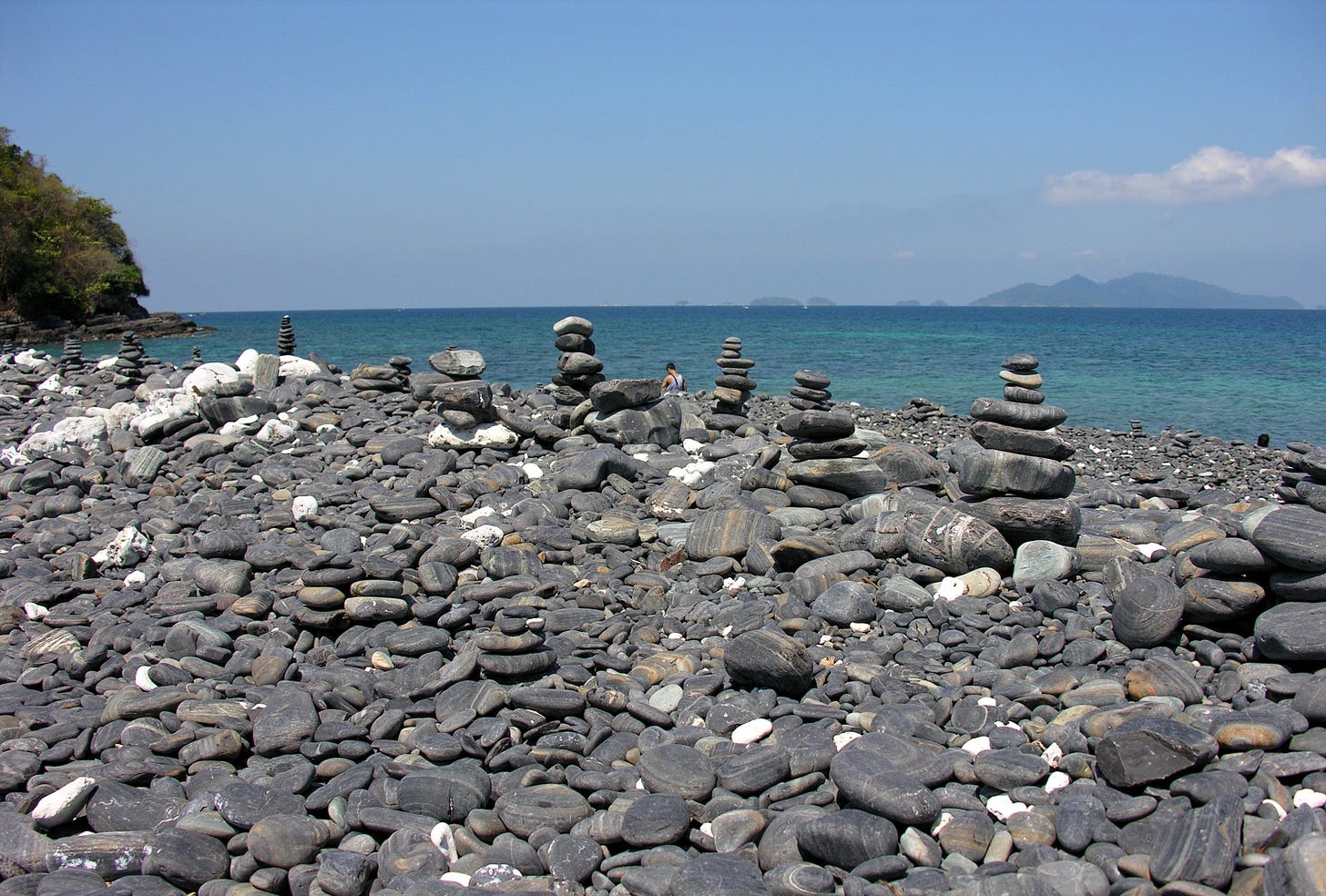 Warning: take one of Ko Hin Ngam's naturally polished stones and a curse may follow you.

Does the island have reefs near shore, like the Ko Rok twins and Ko Rang? Or is there nothing but sand and rocks to wade through, like off Ko Lanta Yai and Ko Sukorn?
Some islands — including Ko Phi Phi Leh, the Ko Lao Liang twins and Ko Wiang (among many others) — are chiefly composed of karst cliffs that rise vertically out of the sea. Others, such as Ko Libong and Ko Kood, have sizable mangrove forests intersected by narrow rivers.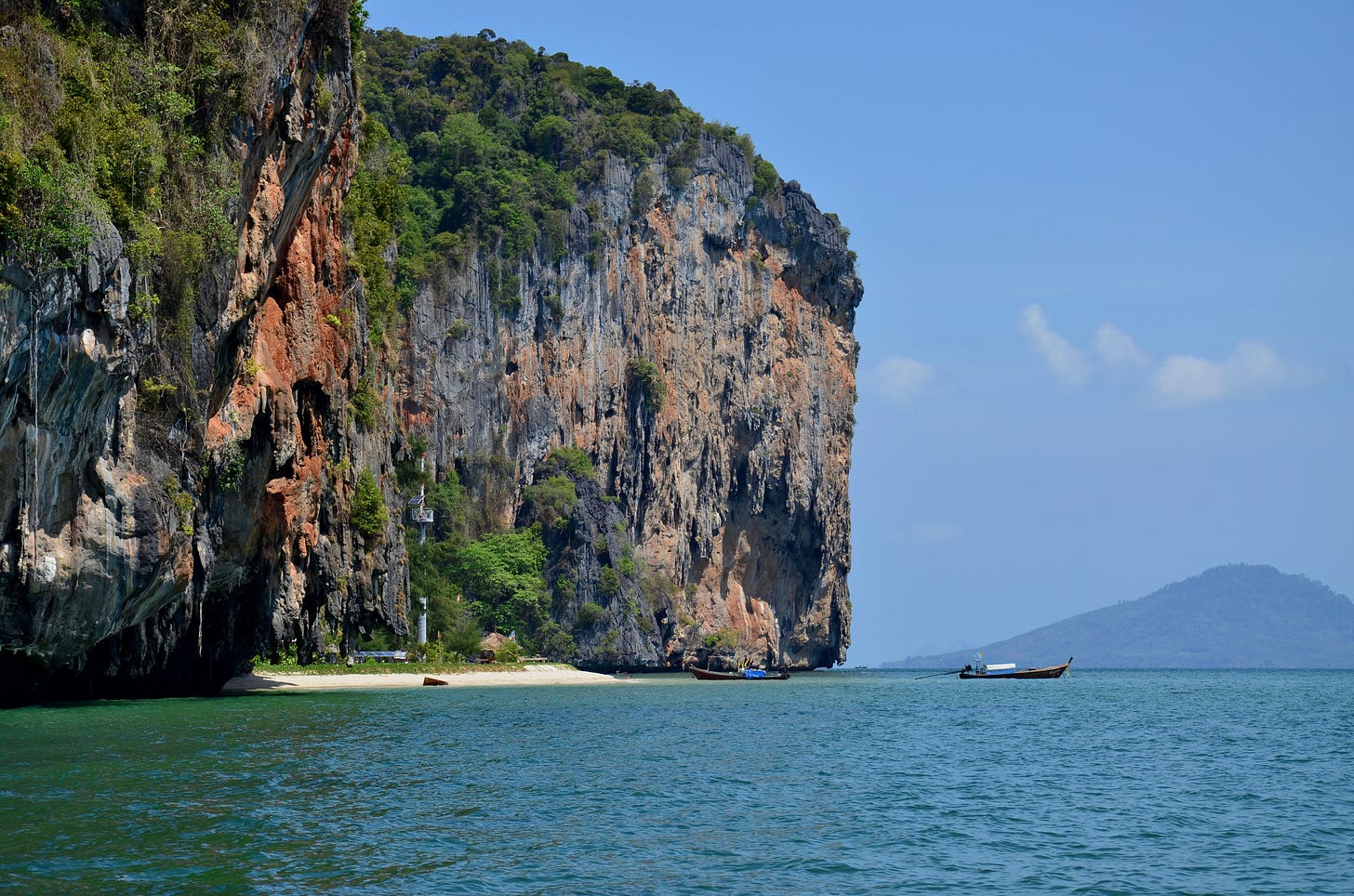 Ko Lao Liang boasts some of the most jaw-dropping karst scenery in Thailand.

The dry savannah of Phra Thong and Ko Ra comes with inland sand dunes. Ko Mak and the Ko Yara Tot twins are flat and agricultural, while rolling forest blankets Ko Ngai, Ko Phaluai and many others. Rimmed by cliffs, lagoons and hidden coves lie within the islands of Ko Hong, Ko Mook, Ko Mae Ko and Ko Khao Yai.
A handful of large and mid-size islands are notable for their mountainous interiors, including Ko Kood, Ko Tao, Ko Chang (Ranong), Ko Samui, Phuket, Ko Lanta Yai, Ko Tarutao, Ko Adang and Ko Rawi. The tallest peak on any Thai island, I believe, is Khao Salak Phet on Ko Chang (Trat), which reaches to 744 meters. Second place goes to Ko Phangan's Khao Ra, at 727 meters. Both can be climbed.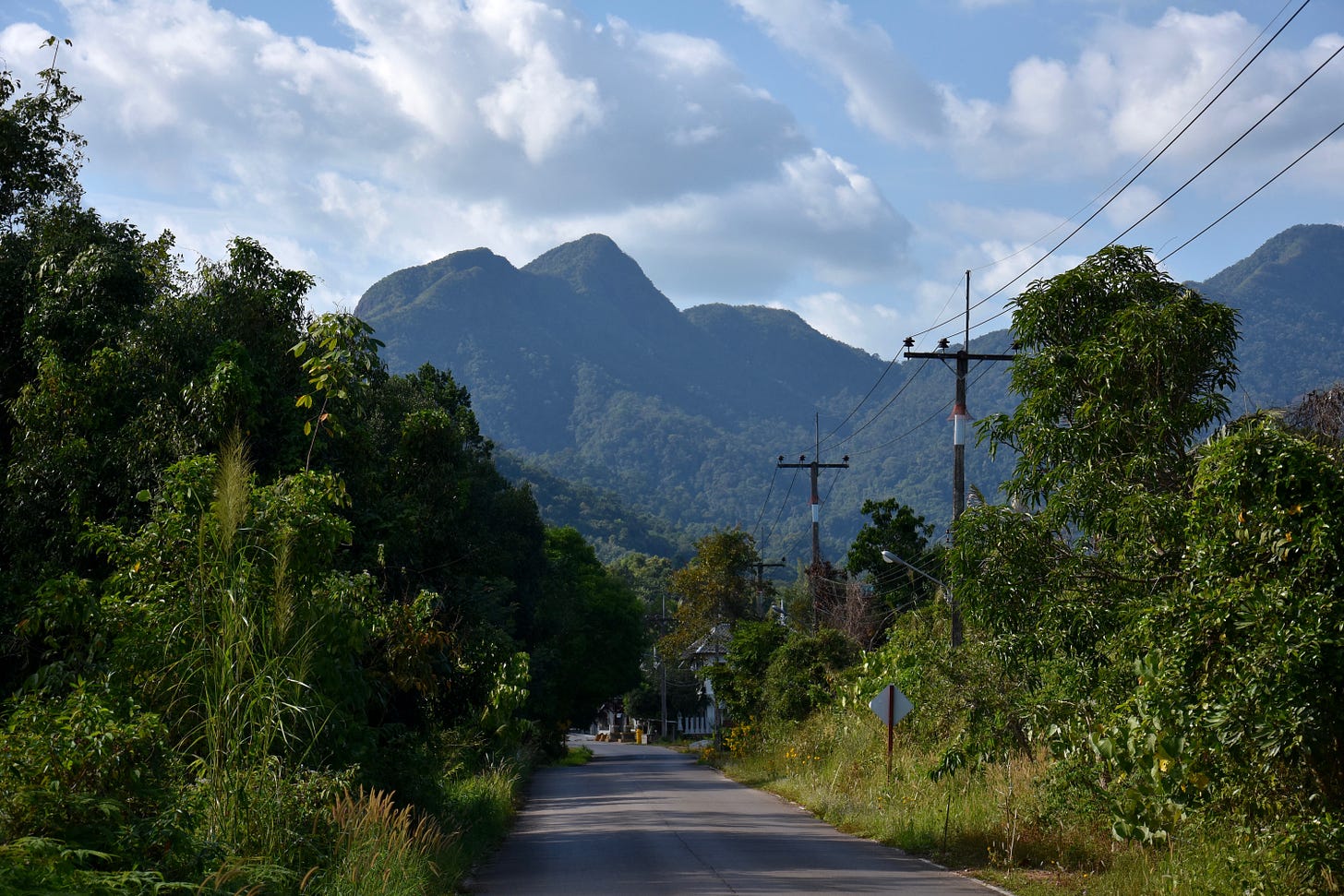 Khao Salak Phet is the tallest of Ko Chang's conical peaks.

Some islands, such as Ko Klang (Krabi) and Ko Kho Khao sit a quick hop across a river from a bustling mainland town. Others are found at least 60 km from the mainland coast, including the Similans, Ko Tao and the Ko Surin twins. Yet I believe that the Thai island situated farthest from the mainland is Ko Tong, which lies in the Adang archipelago some 90 km west of mainland Satun.
How humans shape the islands
Nature has played the most pivotal role in sculpting the Thai islands, but, in many cases, the structures created by people contribute as well.
In fact, hundreds of Thai islands are uninhabited by humans, while many of those controlled by national parks host nothing more than a ranger outpost and perhaps a campground tucked behind a beach. When lamenting about certain heavily developed Thai islands, don't forget that many — including some sizable ones like Ko Tarutao — are fully controlled and protected by the Dept. of National Parks (DNP).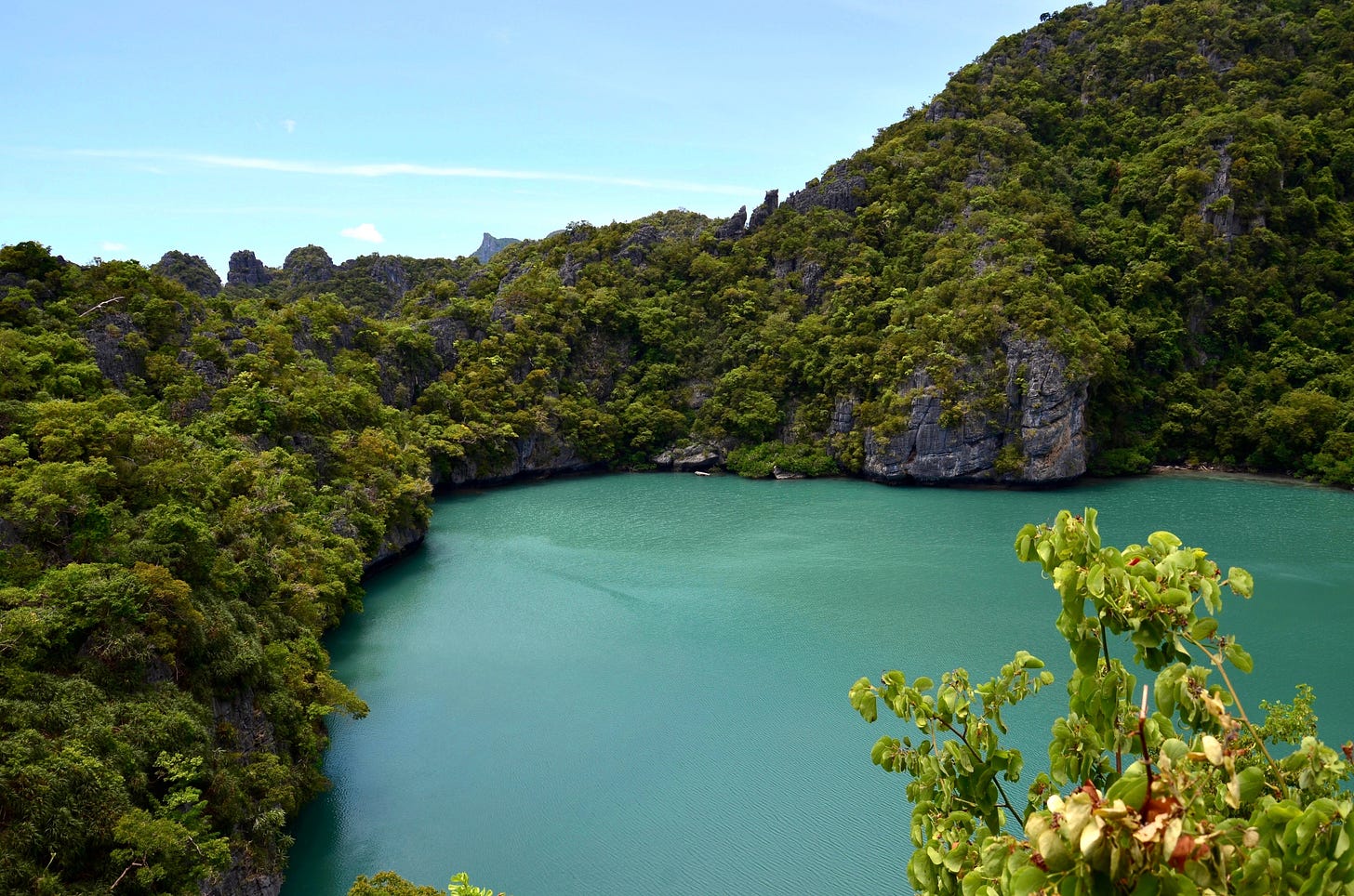 No building allowed on marvelous Ko Mae Ko.

The only human inhabitation found on some islands — like Ko Phetra and Ko Lang Ka Jiew — comes in the form of shacks used by locals who work hard climbing cliffs in search of lucrative edible swallow nests. Quite a few others — such as Ko Phitak, Ko Phaluai, Ko Sukorn and Ko Si Boya — host one or two villages and a few small-scale lodgings. Slightly busier but still considered "alternative" are Ko Mook, Ko Bulon Leh, Ko Phra Thong and Ko Chang (Ranong), among many others.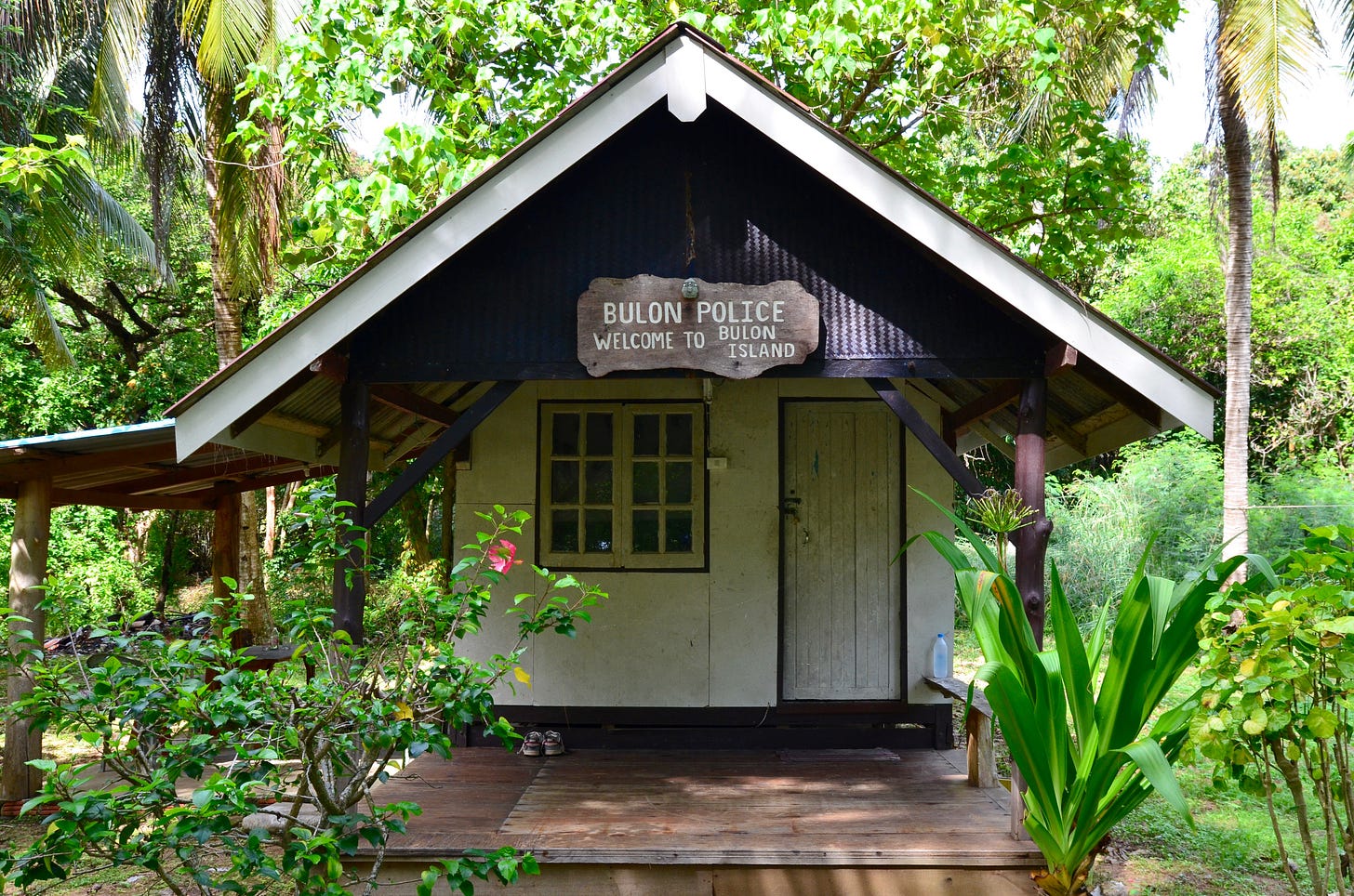 Ko Bulon Leh's adorable police station. Go ahead, put me in jail.

Finally we come to the big-name islands that are heavily developed and touristed in places. Phuket and Ko Samui are the only two Thai islands with airports and high-end villas dotting the hilltops, but Ko Chang (Trat), Ko Lanta Yai and Ko Phangan all have plenty of tourism-related development as well. The same goes for the mid-size to small islands of Ko Samet (Rayong), Ko Lan, Ko Tao, Ko Phi Phi Don and Ko Lipe, all of which have arguably been developed beyond the point of sustainability.
The above group of 10 stand as Thailand's primary tourism islands, in my view. I hesitate to call them mainstream because, while they all host high-volume tourist traffic in places, they also hide sleepier spots with alternative vibes.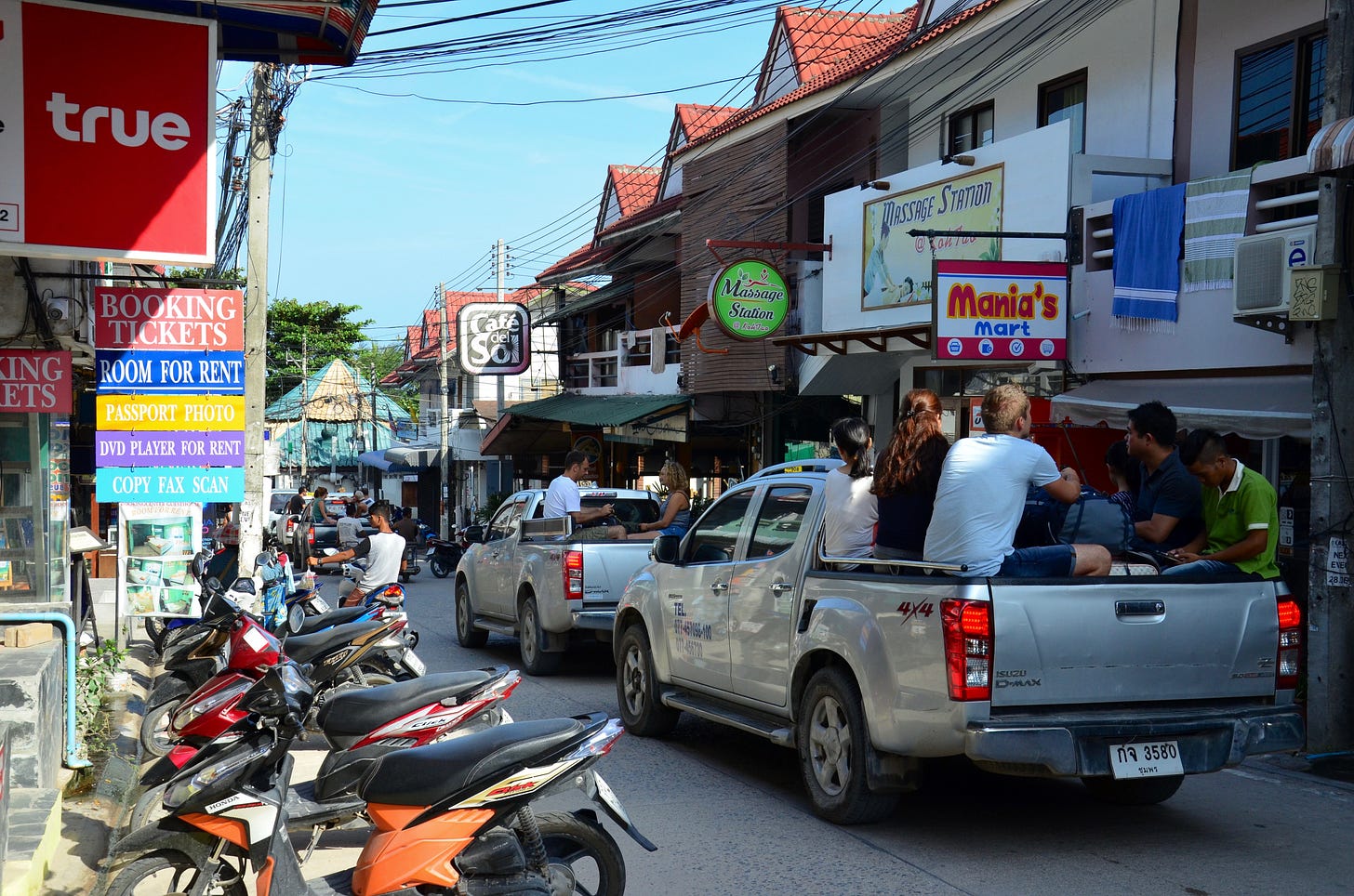 The look of mainstream tourism in Ko Tao's thickly settled Mae Haad area.


Closed and private islands
Quite a few islands controlled by the DNP and the Royal Thai Navy have been closed permanently to travelers in recent years. Examples include fragile Ko Tachai and Ko Bon in Phang Nga; and Ko Phai and Ko Maniwichai in Chonburi. The threat of heavy fines for setting foot ashore keep the paradise seekers away from these islands. It is still possible to dive around them, however.
Thailand has few genuinely private islands. Some — like Ko Nang Yuan and Ko Man Nok (Rayong) — are occupied by a single resort. But I can't think of any Thai island that is owned outright by some super-rich person.
This egalitarian arrangement took root thanks to pioneering conservationists in the 1970s and '80s, when the late King Bhumibol Adulyadej helped ensure that all Thai beaches would be lawfully designated as public land. Inland parts of islands that had never been inhabited were declared protected terrain as well.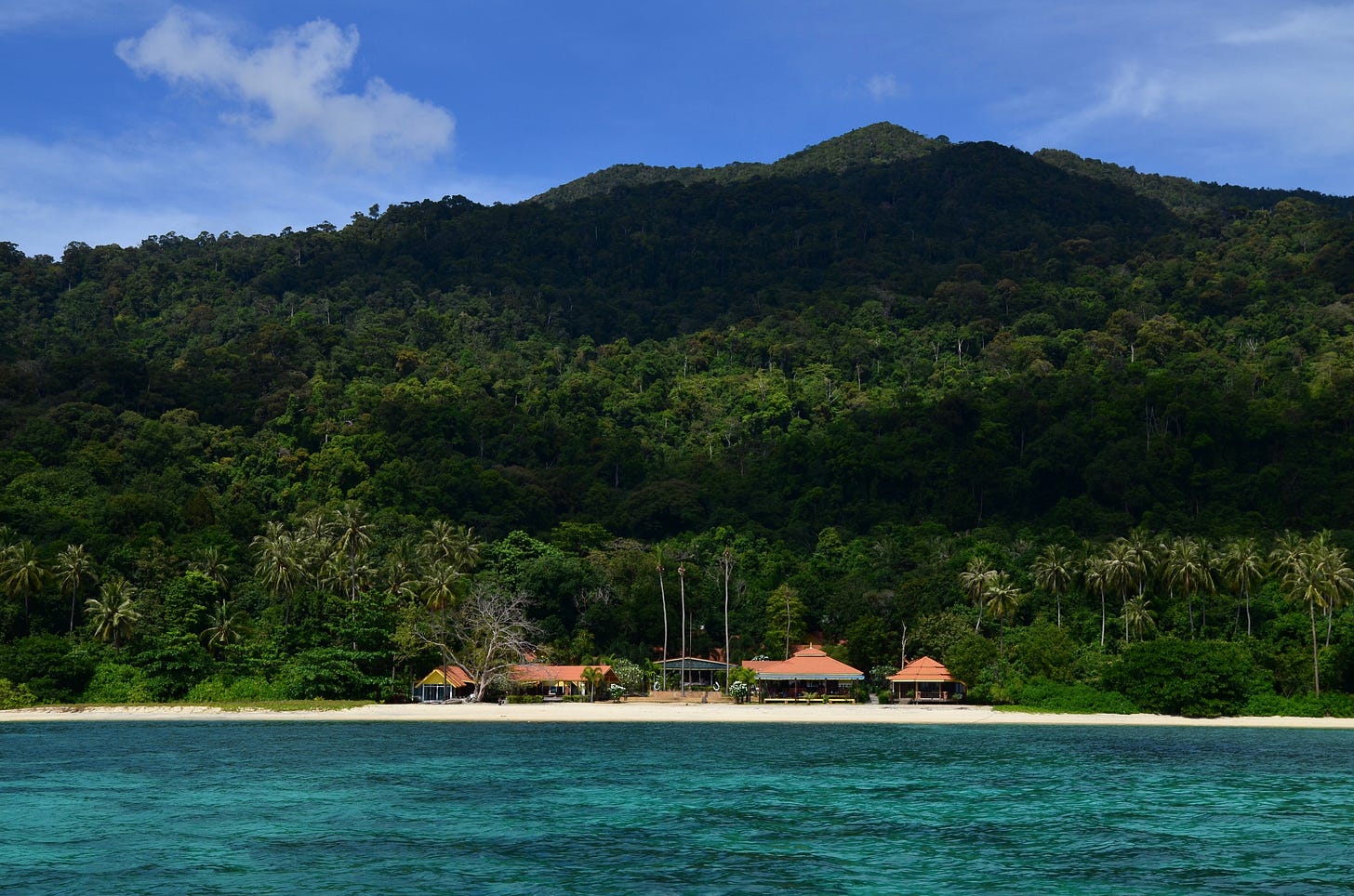 On the national park island of Ko Adang, a privately run resort that should have never been built.

In theory, based on the letter of the law, only families that had been cultivating a given plot of land before these designations took effect were granted land rights in the islands beyond the '80s. In some cases, corrupt dealings by government officials led to development where there wasn't supposed to be any — notably on parts of Ko Samet (Rayong) and even on Ko Adang in more recent years.
In other cases, long-running land usage conflicts continue to simmer in the Thai islands, especially among stateless Moken and Urak Lawoi island dwellers whose native land rights have rarely been respected. Yet, overall, Thailand has been fortunate to spare hundreds of islands from the heavy tourism development that took hold late last century in some places. Let's hope it stays that way.